The Shrine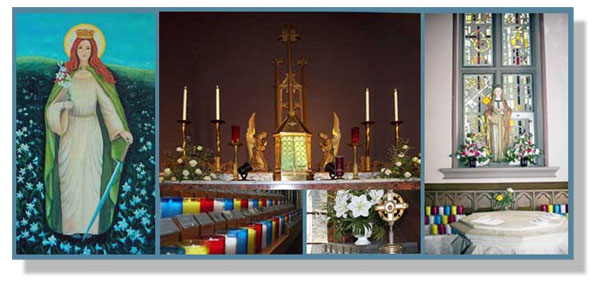 Due to a recent fire, the Votive Shrine will be closed until further notice. The office and gift shop will be open as usual 9-5 Monday through Friday. Pilgrims and visitors are always invited and welcome to join us for prayer, adoration and weekly Shrine Mass at our Eucharistic chapel.
National Shrine of St. Dymphna (pronounced Dimf-nah) is located on the grounds of St. Mary Parish in Massillon Ohio.
St. Dymphna is the patroness of those afflicted with mental and nervous disorders.  Although many have never heard of St. Dymphna, she is becoming increasingly popular during these days of worry, fear and anxiety.  Then, too, there are few people in the world who are not at some time or another troubled with their nerves.
Office and Gift Shop open weekdays 9:00am-6:00pm. Weekends by appointment. Votive shrine is available for visitation during St Mary's Mass times (Saturday 4:30pm, Sunday 7:30am-9:30am-12:00pm). Please call 330-833-8478 for further information.
You are invited to celebrate Saint Dymphna's feast day with us here at the National Shrine in Massillon, OH - Sunday – May 15, 2016 – 3:00 pm - click here to see the flyer for more information.
To donate through our secure website click here
IMPORTANT INFORMATION
We have now relocated from the grounds of Heartland Behavioral Healthcare in Massillon Ohio to St. Mary Parish in Massillon.
Our new street address is:
206 Cherry Rd. NE
Massillon OH 44646.
Our mailing address is:  P. O. Box 4, Massillon OH
44648-0004
Mass and Novena schedule 330-833-8478.